AJFP
Fully Automatic File/Data Pocket Making Machine








AJFP-2L Fully Automatic 2 Lane File/Data Pocket Making
AJFP- Fully Automatic File/Data Pocket Making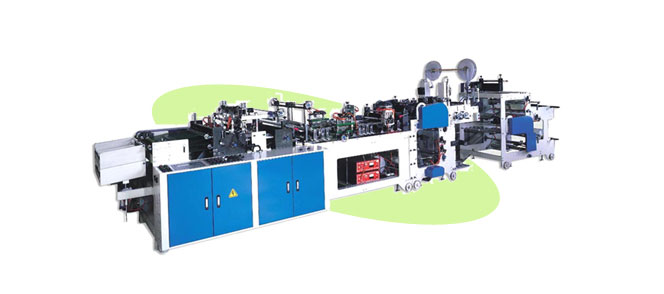 PRODUCT SPEC

Model
Max-Cutting Size (WXL)(MM)
Film Thickness (MM)
Production Per Min. (PC)
Ultrasonic
Motor(HP)
Heater(KW)
Power Required(KW)
Machine Size
Measurement Size
N.W.(KG)
G.W.(KG)
L
W
H
L
W
H
AJFP-2L
L80~355 W150~240
0.04~0.12
100-260
1200Wx2
4.5
1.5
4.5
300"
166"
70"
217"
72"
68"
3965
4430
173"
72"
68"
Spare Parts
Tool Box
Remark: owing to occasional improvement, above specification may therefore be modified without prior notice.
PRODUCT DESCRIPTION

Servo control computer style data pocket sealing & cutting machine produces finished products as below:
PRODUCT CHARACTER

This unit designed especially for all kinds of data pocket: from material infeeding to finished product, it may be completed on production line which will save labor cost and increase production capacity.
This unit may choose to use all kinds of precision and durable punching mold with very low breakdown rate, and may match punching sensor movement to make very precise punching position which is uneasy to run off.
This unit uses high quality, high performance parts to incorporate with all kinds of control and monitor systems.
This machine can be sealed and cut pp material or CPP material.
The raw materials of this machine and white small raw materials can connect the material automatically, do not need to shut down, but change the of the material artificially sparingly.
Plastic Bag Making Machine
Taiwan Sing Siang Machinery, specialized in manufacturing of all kind plastic bag making machinery.