AJFP
Fully Automatic File-Pocket Binding Machine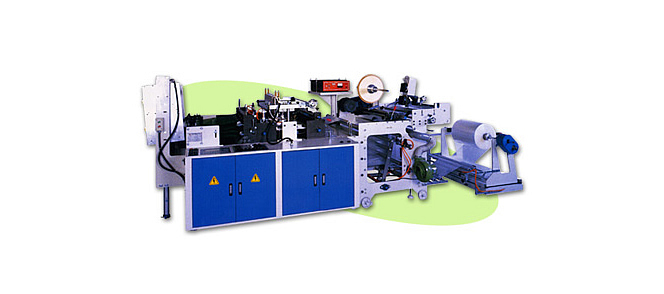 PRODUCT SPEC

Model
Max-Cutting Size (WxL)(MM)
Film Thickness (MM)
Production Per Min. (PC)
Binding Per Minut (Bind)
Heater(KW)
Power Required(KW)
Machine Size
Measurement Size
N.W.(KG)
G.W.(KG)
10PCS/BIND
10PCS/BIND
L
W
H
L
W
H
YS-10HT-700
22"X20"
22"X9"
0.02~0.1
40~80
5~6
4~5
1.5
3.2
125"
55"
65"
105"
63"
73"
1300
1500
Spare Parts
1. Tool Box
2. Thermo Cutter
Remark: owing to occasional improvement, above specification may therefore be modified without prior notice.
PRODUCT DESCRIPTION

Auto-bind file pocket sealing & cutting machine produces finished products as below:
PRODUCT CHARACTER

This unit designed especially for all kind of data pocket: from feeding material to finished product, it may be completed on production line which will save labor cost and increase production capacity.
This unit uses special synchronous cutting and sealing to enable the size of the data bag on production to be of uniform, the sealing is neat and clean, and the waste rate is down to the minimum.
This unit may automatically bind the data pocket that will save manpower and working time on reprocessing.
This unit uses high quality and high performance parts to incorporate with all kinds of control and monitor systems, and problem happens during in operation will automatically stop the unit and start to alarm, this may avoid form wasting material and to protect the unit.
The sealing equipment is a special design of movable circular silicone belt, which may enable the data pocket to be in different specifications and types, the purpose of application covers a wide range.
Plastic Bag Making Machine
Taiwan Sing Siang Machinery, specialized in manufacturing of all kind plastic bag making machinery.